Just like life, football isn't always fair. Fans, players and coaches are disappointed by bad calls, transfers, and losses. Back in 2016, Alvaro Morata, who played for Real Madrid at the time, exclaimed that football can be unfair when Real Madrid hit two late goals to win over Sporting Libson in the Champions League. This was a serious sting for Sporting and the club's fans, considering the team had outplayed Real for nearly the whole game, leading with 1 goal for nearly half the match.However, "unfairness" isn't just Real Madrid's last minute win over Sporting Libson. It's also being a dedicated fan for decades and watching your beloved team face two successive relegations.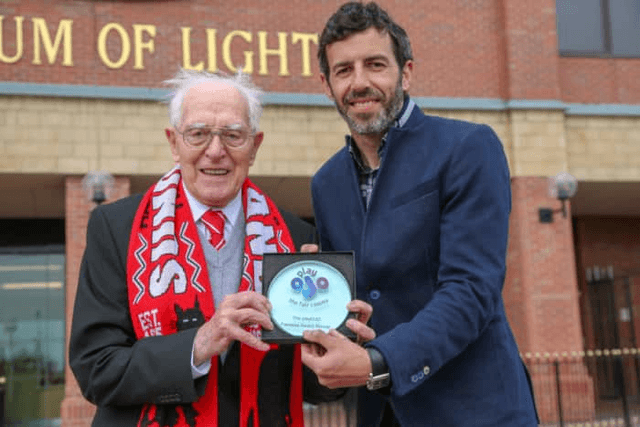 This is the type of "unfairness" experienced by veteran Sunderland "superfan" George W Forster.Forster, (91), is a long-time dedicated supporter of the Black Cats. He's been involved with the work of the club's official supporters association since its creation in the 1960's, and was recently named the English Football League's Championship Supporter of the Year.Forster received the honour for going above and beyond in demonstrating his passion and commitment for Sunderland over the decades. He was also among the tens of thousands of Black Cats fans in attendance at Wembley back in May 1973, when Sunderland surprisingly won the FA Cup over Leeds United.Unfortunately, even though Forster is a Black Cats superfan – supporting his team through the good and the bad – he will be spending his time next season watching the club in play in League One, two leagues from the dizzying heights of the Premier League.
The Black Cats suffer back-to-back relegation
The Black Cats' dramatic late defeat to Burton Albion back in April, condemned the team to relegation again this year, accumulating 37 points (6 away from safety) and amassing the second highest goals conceded tally in the league.Back-to-back relegations are unusual, making Sunderland just one of five teams within the entire English footballing history to have faced double relegation. This has led many fans to be genuinely afraid for the future of the club, which is now preparing for life in League One.However, Sunderland can still rise from the ashes of its defeat as there may be silver lining with a new club takeover. Subject to league approval, Sunderland owner Ellis Short has agreed to sell the club to a group led by Steward Donald, chairman of Eastleigh F.C. As part of this new (and pending) deal, Chris Coleman and Kit Symons were sacked at the end of the season in an attempt to wipe the slate clean and start again. The new regime will put a new manager in place in an effort to get the Wearsiders back on top as soon as possible. This new deal could mean new hope for Black Cats fans, like Geroge.
Sunderland Superfan awarded for going above and beyond
It's not all doom and gloom for George, however, while the Black Cats won't be at this year's FA Cup final, Forster will be. The reason is that when he was named English Football League's Championship Supporter of the Year, the Sunderland Superfan was awarded FA Cup final tickets. After lunch ahead of the game, Forster will be sitting in a box seat with his son-in-law at the FA Cup final between Manchester United and Chelsea this weekend.Forster was awarded the tickets courtesy of  online casino company, PlayOJO. OJO, have been in the industry for just over a year now, and have been working hard to provide a 'fairer' experience to the world, and not just in the gambling industry. It is with this, that they were keen to help take George to the FA Cup final and show George that all can be fair in the football world.As icing on the proverbial cake, SAFC legend Julio Arca, along with an OJO fairness ambassador, presented the superfan with the tickets."It's a nice surprise for me," said Forster. "It was a wonderful experience when I was named supporter of the year and be recognised after all of these years. I had a great time going along to collect the award but this is even better," he said of being presented the tickets by Arca.Arca, who recently retired and announced he will move into coaching, said that it's because of people like Forster that clubs survive, "by having loyal supporters such as him through both good times and bad."He added that when things go right for Sunderland, the Stadium of Light is "very loud and hopefully sooner rather than later they are back getting crowds of 48,000 again."